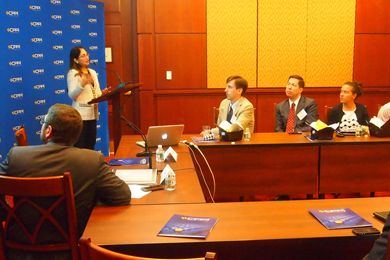 On June 5, 2014, the Center for Public Policy Innovation (CPPI) hosted a roundtable discussion on the Hill with Cisco's Chief Technology & Strategy Officer, Padmasree Warrior. Nearly 50 senior congressional staff attended the event, which focused on how the Internet of Everything (IoE) is changing the world, from agriculture, to manufacturing, to transportation and jobs. Senator Tim Kaine (D-VA) introduced Warrior, and was eager to hear her thoughts on the evolving tech landscape. Warrior has been widely recognized for her creative, visionary leadership. Forbes has named her one of "The World's 100 Most Powerful Women" for two years running.
In 2013, The International Alliance for Women gave her the World of Difference Award, Silicon Valley's SVForum honored her with the Visionary Award, the American Society of Engineers of Indian Origin gave her the Excellence in Engineering, Science and Technology Award, and the International Museum of Women presented her with the Innovator Award for Women in Technology. In 2012, Business Insider called her one of the "25 Most Influential Women in Wireless," the Aspen Institute gave her the first Leadership in Science and Technology Award, India's National Association of Software & Service Companies named her the Global CTO Award winner, and CloudNOW recognized her with the first Top 10 Women in Cloud Award. The Wall Street Journal has called Warrior one of "50 Women to Watch," Fast Company included her among the "100 Most Creative People in Business," and The Economic Times listed her as "the 11th Most Influential Global Indian."
The event marked the latest installment of CPPI's Futurist Policy Initiative which launched with an Internet of Everything policy forum on the Hill last November.