The Center for Public Policy Innovation (CPPI) is committed to building a community of collaboration to address present and future policy challenges relating to U.S. competitiveness, innovation, and national security. As such, CPPI was pleased to host its 2013 congressional staff tour on Friday, July 26th.
During the daylong event, senior staff members interacted with business executives from four world-renown companies – Visa, Oracle, Symantec and Northrop Grumman – all the while engaging in substantive discussions on network security, government efficiency, cloud computing, and other topics. CPPI's event provided participants with a first-hand look at state-of-the-art technology and an increased understanding of these companies' global operations.
Visa Data Center – Ashburn, VA
Visa, Inc. is a global payments technology company that connects consumers, businesses, banks and governments in more than 200 countries and territories, enabling them to use digital currency instead of cash and checks. Visa has built one of the world's most advanced processing networks. It is capable of handling more than 20,000 transactions per second, with reliability, convenience and security, including fraud protection for consumers and guaranteed payment for merchants.
Michael Stark, Chief Facility Engineer
Tammy Greeves, Business Leader
Eddy Cones, Manager, Global Security & Safety
Oracle Customer Visit Center – Reston, VA – The Oracle Customer Visit Center provides an opportunity to meet face-to-face with Oracle executives and product experts. You will hear how Oracle can help customers achieve business objectives and address technology challenges. Presenters include executives from the teams that develop and set strategy across their complete product set including servers, storage, virtualization, database, middleware, business applications, and industry applications
Symantec Security Operations Center – Herndon, VA
Symantec's Security Operations Center, or SOC, serves as the cutting-edge, state-of-the-art war room for Symantec's security analysts and engineers. The Virginia SOC is the largest of five such facilities operated by Symantec worldwide with the others located in Japan, Germany, England, and Australia. These centers are the first line of defense in the war against online threats. The SOC is in operation 24 hours a day, seven days a week. Analysts work on three rotating eight-hour shifts daily. This practice is to ensure that monitoring continues consistently and security incidents are dealt with in real-time as they happen.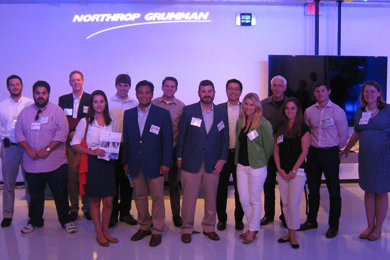 Northrop Grumman Information Systems' Center for Innovative Solutions – McLean, VA
Northrop Grumman's Center for Innovative Solutions is designed to be a think-tank for idea creation and development of mission concept-of-operations. With an inspiring, innovative and creative work environment, the center is an ideal platform for Northrop Grumman's business developers and technologists to engage in working sessions with their customers. More than 5,000 stakeholders engaged at the center in its first year, including meetings with executive and engineering customers from the Department of Defense, the intelligence community and several civilian agencies.